The leadership of First Port City Bank first considered utilizing cash recyclers when they were planning the pod style design of their new branch in Donalsonville, Georgia. But, after meeting with QDS and seeing how the recycler could transform their existing branches, they elected to also install CIMA 7000 recyclers in the teller line of their two Bainbridge, Georgia locations.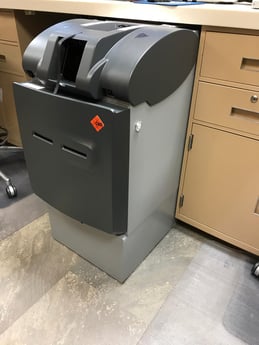 Tedious Teller Line Tasks
First Port City Bank typically operates with three to four tellers on their main line and those tellerswere spending a lot of time each day on trips to the vault, making till maintenance a challenge.
"Before the cash recycler, we were making at least 8-10 vault trips per day and each trip had to be done in dual control, which for us requires an Officer," said Head Teller Jennifer East. "Now, tellers can buy and sell directly from the recycler which not only simplifies our daily teller line process but also helps with the speed and accuracy that we are able to serve our customers."
The cash recycler is also flexible enough to support any staffing changes that may occur allowing the bank to move another teller to the recycler to fill in. The recycler has also enabled the branches to better handle the volume of seasonal workers they see and process their transactions faster.